The Orientale basin (roughly circular, 930 km crater) was formed by a giant impact around 3.8 billion years ago. Ejecta and impact melt created during this impact was flung far and wide across the surface of the Moon. Traces of ejecta and melt are documented hundreds of kilometers away from the Orientale basin. Today's Featured Image is from a Digital Terrain Model (DTM) color-shaded relief (colorized elevation data overlain on shaded relief) image of a portion of a river of ejecta from the Orientale impact that was thrown more than 600 km southwest of the Orientale basin -- that's about the same distance as the height of the Hubble Space Telescope above Earth!
Ancient degraded crater roughly 150 km in diameter that was spattered with ejecta from the Orientale basin. Materials flowed under the influence of gravity down the wall of the degraded crater forming lobate, lava-like and ponded formations (arrows). Blue outline shows location of the full NAC DTM of today's Featured Image [NASA/GSFC/Arizona State University].
The lobate morphology of this ejecta in the opening image (and below), which is located south of Buffon crater, is characteristic of a viscous fluid (a fluid that resists flow to some degree) as it moved across the surface. The NAC-derived topography shows that the flow is roughly 50 meters thick at its margins and relatively flat across its 3 to 4 km width (ignoring all the small craters). Was this fluid purely impact melt, dry ejecta lubricated with entrained gases, or a mixture of melt and rock? The high density of craters on the flow suggests that the ejecta was emplaced a long time ago and it is not a melt flow from a more recent nearby impact.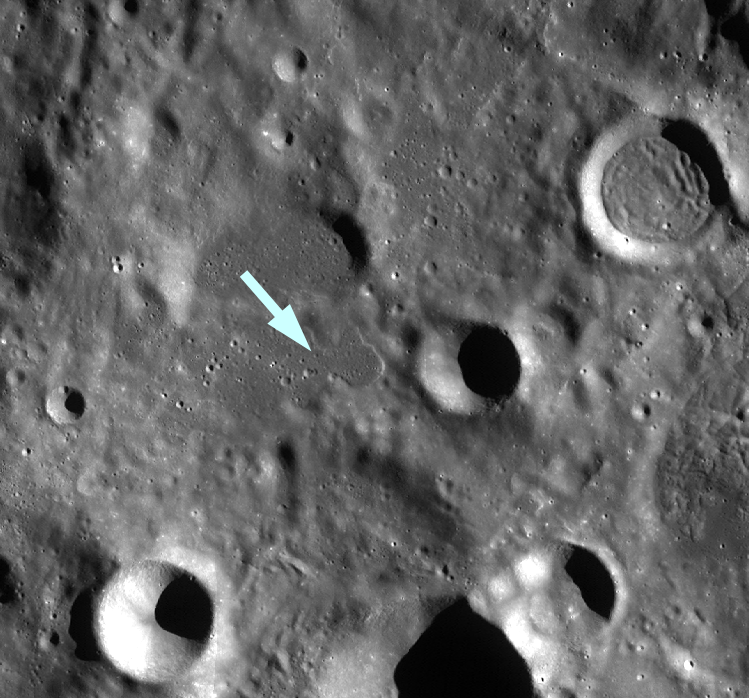 More detailed view of the flow front shown in the WAC context image above [NASA/GSFC/Arizona State University].
The entire NAC DTM of the Orientale ejecta flow feature can be download from the LROC RDR website.
Related Posts:
A Digital Terrain Model of the Orientale Basin
---
Back to Images